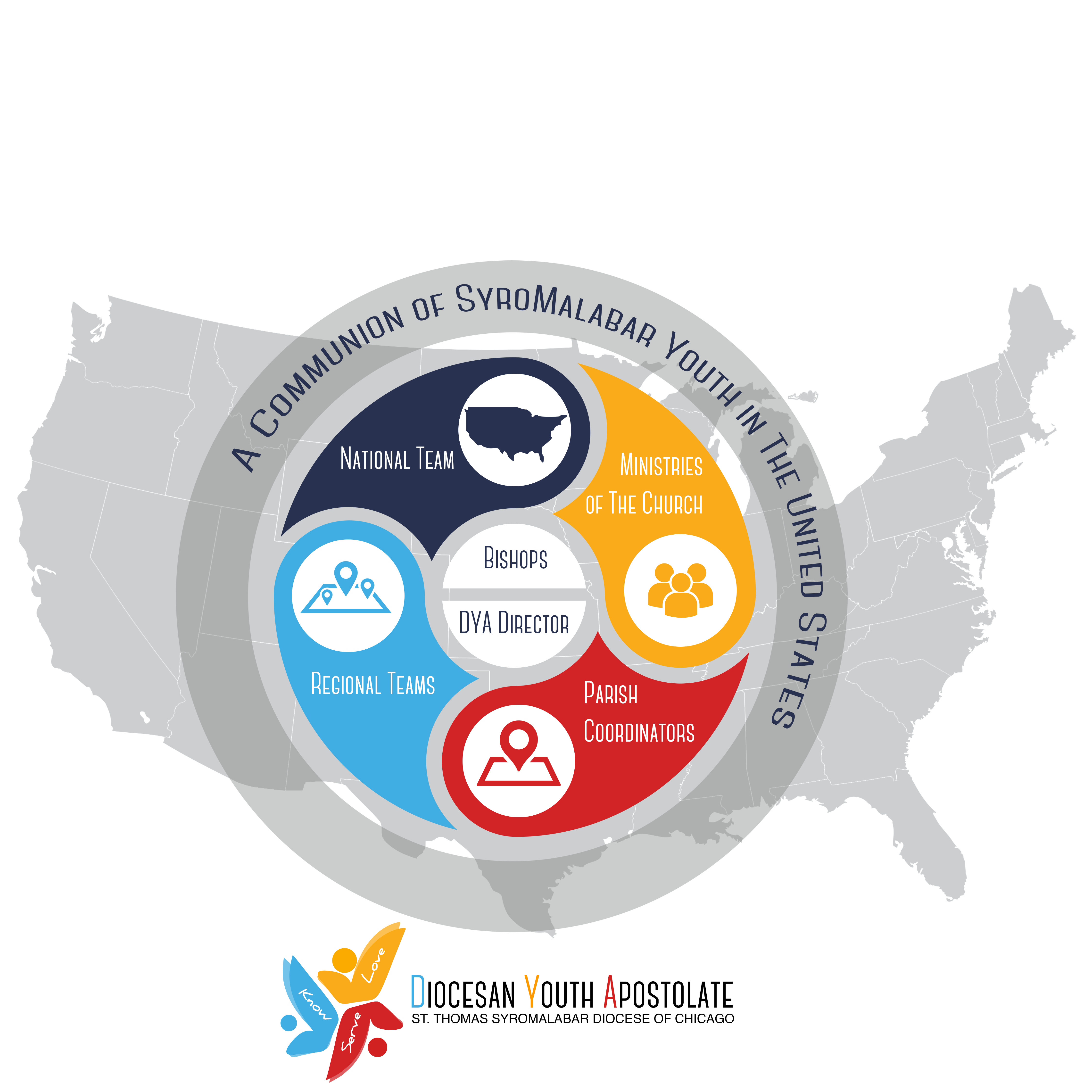 Youth Apostolate Director: A priest who is appointed directly by the Bishop of the St. Thomas SyroMalabar Diocese of Chicago.
Parish level: A team of coordinators in a parish who are selected and appointed by the individual parish vicar. The vicar can consult with the parish animator & former team of coordinators to help make determinations. A group of 6 coordinators is recommended for proper distribution of responsibilities amongst leaders, however is not restricted to that number. Elections & hierarchy (president, vice president) are highly discouraged.
Regional Teams of Coordinators: Led by a National Youth Coordinator(s) who belongs to that same region, regional teams are composed of representatives from every parish and mission per region. These individuals are recommended by the parish/mission priest to the Youth Apostolate Director and appointed by the Bishop.
National Team of Coordinators: A team of national youth coordinators recommended by the Youth Apostolate Director and appointed by the Bishop of the St. Thomas Diocese.
DYA Leadership Vision
What makes the structure of DYA leadership unique? First and foremost, is its non-hierarchical structure. Those in an official leadership capacity fall into one of 3 groups: National Team, Regional Teams, or Parish Coordinators. The functioning and success of each role is dependent on each other, and they vary primarily in regards to the scope of their discussions and planning.
The primary responsibility of National Team Members is to cultivate and develop and ongoing vision for the future of the diocese, particularly in regards to its youth. There are approximately 15 coordinators on each team who meet in-person twice a year, and virtually (via conference calls) up to multiple times a week, to discuss the needs of our youth, and to consider how to best meet those needs. Regional teams can be considered the disseminators of this vision within their regions. Much of the groundwork however, falls on the shoulders of the parish coordinators, who must take action to make sure this national vision is understood as a parish reality. The beauty of this structure is that it allows us to be united under a common vision on a Diocesan, and therefore, National level.
Perhaps intuitively, none of these groups can work effectively in isolation. The formation of a national vision is the result of many conversations between national, regional, and parish representatives, all of whom voice their own experiences, and the experiences of those in their local Churches. Regional teams often critique and give feedback to the National Team, who incorporates that feedback into their vision for the future. National and Regional Coordinators also work side by side with their respective parish coordinators to ensure that the national vision complements the individual parish reality.
The DYA works in collaboration with many other independent ministries within the Diocese, including but not limited to, Jesus Youth, Shalom, Sehion, Kairos, and other ministries. Leadership of the DYA is called to be a support to these groups, particularly as they operate within a parish context.
Last but not least, are past coordinators from all three groups. Many remain an active and vital part of DYA leadership — just not in an official capacity. The experience they have gained from their own terms is considered a valuable asset to the ongoing formation of the youth of our diocese, and they are often called in for official and unofficial advisory roles.
The DYA work ethic and approach is person-based, not task-based. In essence, while there are tasks that are an inevitable part of any position, concern within leadership is not simply about checking boxes off a list, but is concerned primarily with the growth and development of each person on a team. The relational focus forms the leadership approach, and when done well, allows for an authentic growth in each person, rooted in love.
Connect with Your Local DYA Leaders
Click Your Region For More Info
---
Region Map
Click/tap on a region button to see the list of churches in that region!
You can also get in touch with the DYA leaders of your region to get more involved in your area!